Modul-Connect™
Choose from our wide range of "modules" and tailor a solution to your fleet's needs. All our electrical products are easy to control via our app – Modul-Connect. All you need is a connected Control Box to the vehicle, as you take care of the rest via the app. Doesn't get any easier than that.
Modul-Connect™
Modul-Connect brings vehicle fleets to life. A powerful control box in every vehicle provides value-adding functionality, giving both the driver and support teams access to real-time data. The smartphone revolutionised the way people connect. Now Modul-Connect PRO is about to give the same freedom within vehicle fleet management.
READ MORE

Modul-Connect – Main Box
Modul-Connect is a ground-breaking innovative wiring and control system, which enables you to control all of the vehicle's auxiliary electrical items with your mobile device. It is extremely versatile and can handle large loads.
The system is developed for the light commercial vehicle industry, by Modul-System in collaboration with specialists within automotive electronics and software. The product is developed and produced in Sweden, using high-quality components. Therefore, we can with confidence offer a 3-year warranty.
Modul-Connect is completely independent of the OEM's electrical system and any other vehicle electrics. The system has undergone rigorous testing and holds both the E and CE mark.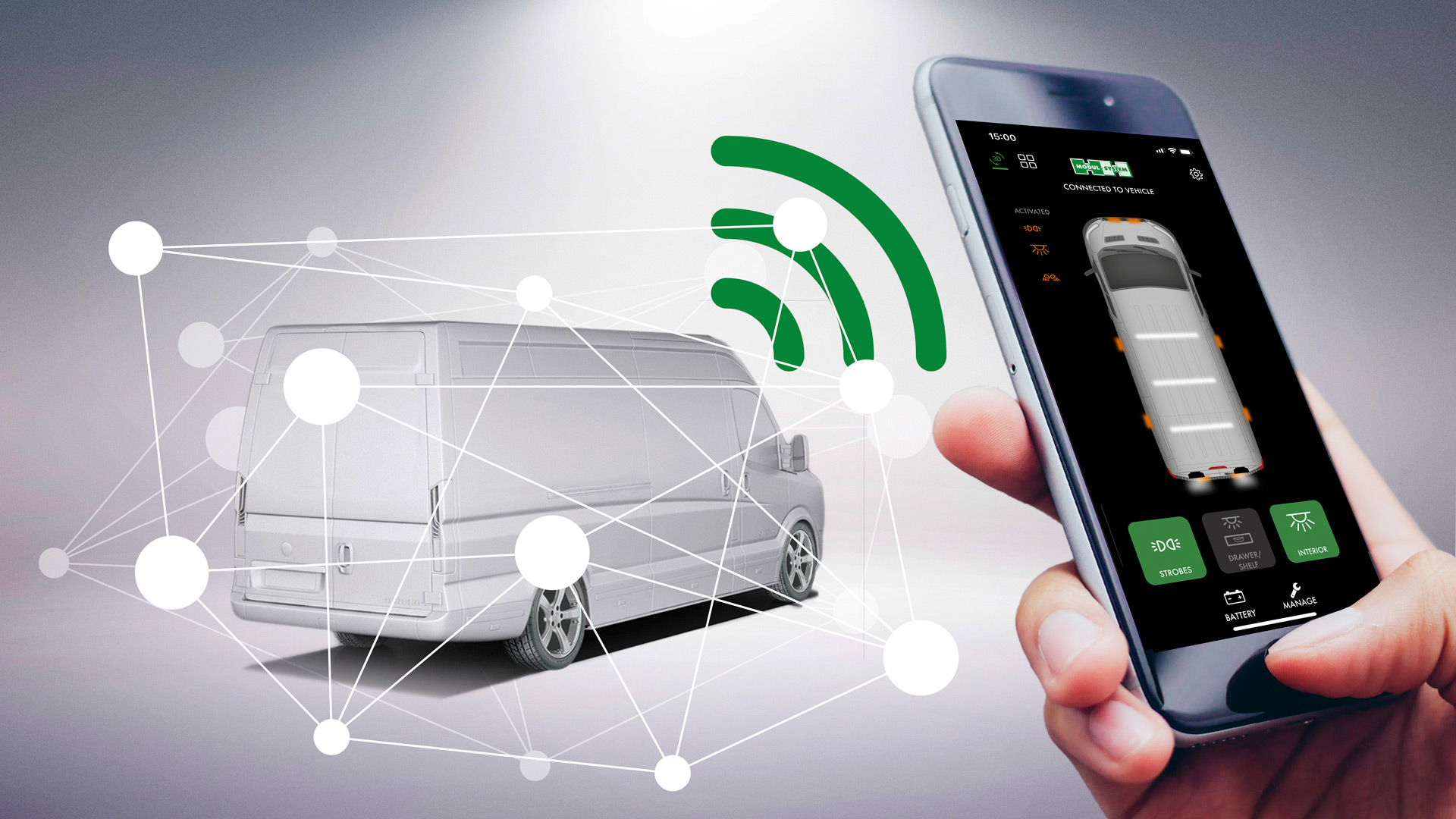 PLAN WITH PRECISION
You can acquire valuable insights by monitoring your fleet. By optimising the routes, both kilometres and valuable time can be saved. In the Modul-Connect Web Portal, all your vehicles are visualised with their exact position and driven route, battery level and load weight from the weighing system. For vehicles with sensors installed, you will be able to follow the statistics, and if the weighing system alarms, you will be notified. All data is stored, and you can easily analyse historic values. In addition, you can create different kinds of reports, which can be exported to other formats and shared for further analyses to optimise the business. Based on local regulations and guidelines, it is also possible to set which data will be visible for each user.

Using our Driving Journal service, precise reports can be generated from the system. You will be able to see all routes, kilometres driven and road toll passages. The driver can categorise the trip as business or personal using the mobile phone. The compiled data can be exported to Excel and used as a basis when creating the monthly tax report to the finance department.

Using the Driving Behaviour service, it is possible to detect acceleration, heavy braking and unbalanced turns. In addition to the traffic safety aspect, this information can be used to minimise fuel consumption and emissions and prolong the lifespan of the vehicle's tires, brakes etc.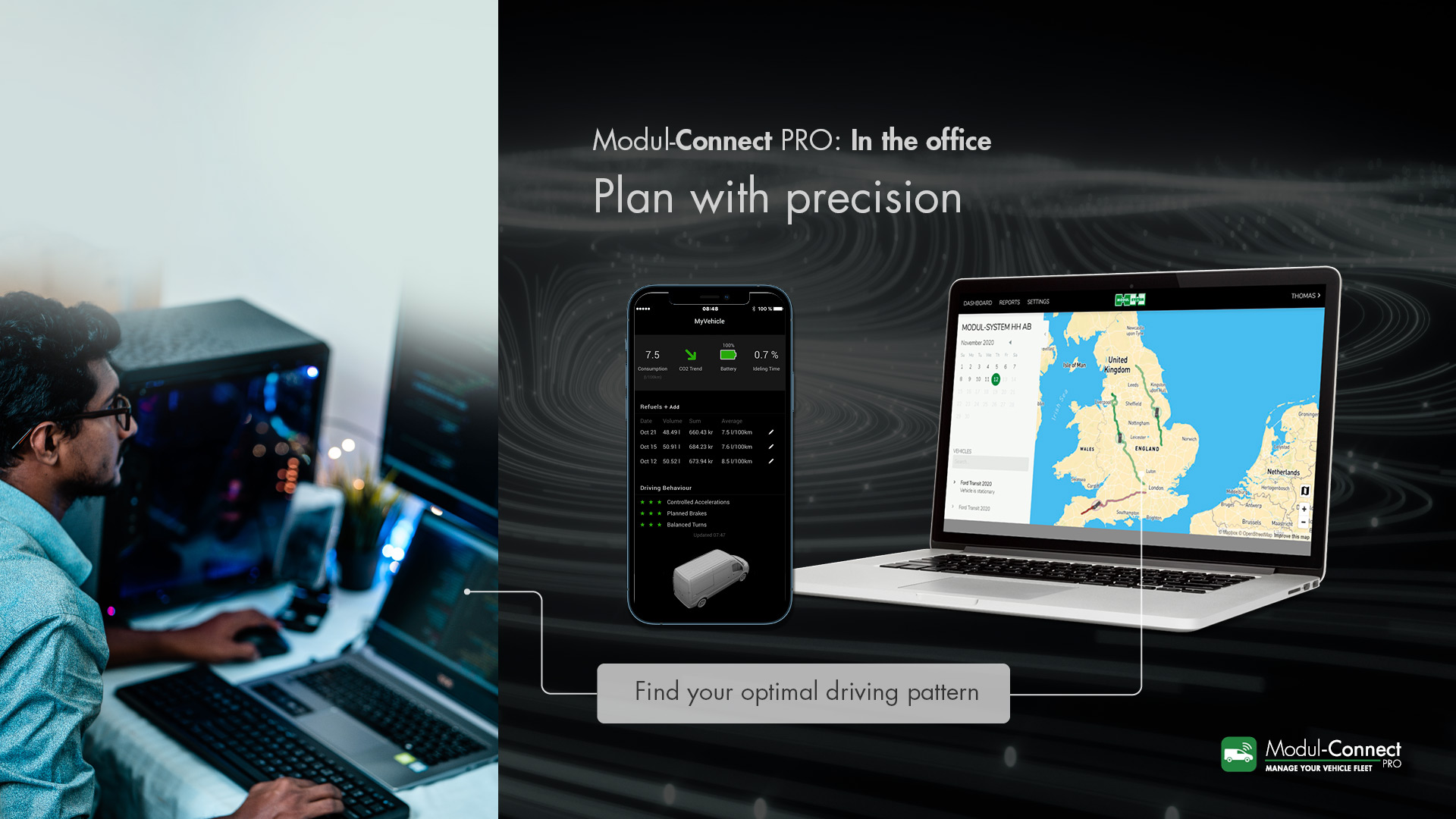 READ LESS

Driving Journal
All vehicle data are compiled in the digital and autogenerated driving journal, which reduces administration and facilitates a possible tax audit. Driving Journal registers all information required for taxation purposes.
READ MORE

Save time and money
Filling a driving journal is time consuming, is easy to forget and is honestly not that fun. With Modul-Connect's Driving Journal, you get all driving data from you vehicles automatically generated and uploaded to the cloud, thus you do not have to spend time on entering data manually. In addition, as a fleet manager, you get a better understanding of how your vehicles are actually used.
Download complete Driving Journals
At the end of the month, you log in to the Portal and download a complete driving journal. In the report you will find the distances, addresses, time and the purpose of each trip, everything you need for a correct driving journal.
Keep track in the app
In the phone app, each driver can see their own routes. Set a schedule to automatically categorize trips as private or business, or categorize them manually. It can be hard to remember the purpose of each trip at the end of the month. Therefore, we have added a comment section where you can easily enter the purpose of each route.
Optimize routes
In the customer Portal, you can see the routes each vehicle in you fleet have taken, at the same time in the same map. See where they are in real time or go back in the calendar and analyse their routes. This can be a useful tool for finding inefficient routes and replan for a more efficient fleet.

READ LESS

ON-BOARD VEHICLE WEIGHING SYSTEM
With the on-board vehicle weighing system installed, the driver can monitor the front and rear axle weight, as well as total weight, of the vehicle. Sensors are installed on the vehicle suspension, and the main control unit will calculate the actual load based on the data from the sensors.
READ MORE

Prevent vehicle overloading
Do vehicles in your fleet sometimes run over their weight capacity? The on-board vehicle weighing system monitors the vehicle weight in real-time. The weight is shown on a Display Switch Panel, mobile phone or tablet and is presented in relation to the payload.
Accurate and reliable sensors
The system gets its data from sensors installed on the vehicle suspension and enables the driver to monitor the front axle, rear axle and total weight of the vehicle. The system is very precise with an accuracy of +/- 2.5% when close to maximum payload.
Push notification warnings
When the On-Board Weighing System detects an overload, a warning is sent directly to the driver and also to the fleet manager, if enabled. By informing the right people, a decision can be made to reload and avoid the risk of a fine.
Identify routes where vehicles are overweight
The Customer Portal allows you to follow all vehicles in your fleet in real time. When a vehicle is running over its weight capacity, the current mileage is displayed in red on the portal. It is also easy to generate a report showing historical warnings per day and per route.
READ LESS

Customer Portal
The Modul-Connect Portal is the perfect tool for fleet managers who are looking to keep their fleets running as efficiently as possible. The portal brings together all of your modules, providing real-time data and historical reports, putting everything you need in one place.
READ MORE

All your data in one place
The Modul-Connect customer portal enables you to precisely track every vehicles in your fleet. You can easily bring up information on a vehicle's exact position and how far it has travelled as well as battery status and vehicle weight.
By tracking your vehicle fleet digitally, you can get valuable insights to help you efficiently optimise your routes, saving valuable mileage and time.
If your vehicles are equipped with sensors, you can receive real-time warnings each time an alert is triggered and easily view a history of all alarms, sensor alerts and vehicle weight.
Reporting
All data is saved, allowing you to easily analyse historical values. A wide variety of different reports can be created based on the data you need. Reports can be exported to different formats and shared for further analysis to identify efficiency savings and potential areas of business development.
READ LESS

Asset Tracker
Are you tired of replacing forgotten tools? By mounting Asset Trackers on valuable and business critical equipment, you can ensure that nothing is left behind. Several Asset Trackers can be connected to a vehicle and/or telephone and you are notified every time an Asset Tracker is out of range.
READ MORE

Developed for tough environments
The Asset Trackers are developed for tough environments. Each asset tracker is small, waterproof, shock-resistant and vibration-resistant, allowing it to be attached to virtually all equipment. The long-lasting built-in battery has a lifespan of about 5 years.
Track your tools in the Portal
In the customer portal, you can see the position of your fleet's tools in real time on a map. When a tool has been forgotten, it is shown in red on the map and you can easily see the tool's latest position. Through this, you as fleet manager can see if there is a driver nearby who can go and pick up the tool.
READ LESS

Passive Infrared (PIR) Sensors
With one or more PIR sensor installed in your vehicle, you can leave the lighting on only when it actually needs to be. or why not let them warn you when there is unauthorized movement.
READ MORE

Motion controlled lights
Working with both interior lighting and exterior work lights, you can use motion sensors to detect when a vehicle's lighting needs to be on. With PIR, lights never need to be used unnecessarily saving money when lights are not needed but making sure your team can work effectively when they are.
Burglar alarm
When movement is detected outside working hours, you can set the motion sensors to turn on the lighting and scare away intruders. At the same time, a warning is sent to the driver and fleet commander who can track the vehicle's position in either the Portal or the phone app.
READ LESS

CLIMATE SENSOR
If you ship temperature sensitive products, temperature and humidity sensors enable you to accurately monitor the climate in the vehicle and recieve notifications if the temparature becomes too hot or too cold.
READ MORE

Real-time monitoring
With our temperature and humidity sensor you can monitor the temperature and humidity in real time.The values are displayed on a switch panel with display, mobile phone or tablet.
Portal reports
In the customer portal, you can see the temperature and humidity status for all vehicles in your fleet and see and download history of distances when the temperature and humidity sensor showed values that were outside the desired range. In order not to risk your temperature-sensitive goods becoming bad, a push notification is sent directly to you as a driver to be able to prevent destruction.
READ LESS

POWER INVERTERS
By using a power inverter, it is possible to run 230V equipment from the vehicle battery. We offer a range of high quality, pure sinewave DC to AC power inverters. All inverters features a low battery alarm to prevent total battery discharge and overload and over-temperature shutdown to protect the inverter and the conversion.
BATTERY CHARGERS
By using a battery charger you ensure that your auxiliary battery bank is always properly charged. We install both DC-DC and AC-DC chargers. The Modul-System battery chargers are compatible with all light commercial vehicles, including those with smart alternators, regenerative braking technology and start/stop functionality.
HEATERS
A heater will make sure that the vehicle is warm, even when the outside temperature is low. We offer both water and air heaters. The water heaters will pre-warm the engine / cabin, while the air heaters are suitable for warming up the load compartment / cabin.
EXTERIOR LIGHTS
Exterior lights will make the vehicle visible on, or by the side of the road. Our exterior lighting range includes beacons, strobe lights, work lights and light bars. The beacons, strobe lights and light bars meet R65 regulation and feature different flash patterns to suit every need.
INTERIOR LIGHTS
Good lighting conditions in your service vehicle will contribute to increased work efficiency and a higher level of safety. We offer a wide range of high-quality lights, including ambient lights, workbench lights, drawer/shelf lights and work lights in different versions.
Accessories
Modul-System offers a wide range of additional electrical accessories, such as reversing cameras and alarms, hand wash units, sensors, run locks, power sockets, etc. If you can't find the accessory you are looking for on the website, please contact your closest Service Center.
Let's talk
Do you have any questions or want to schedule an appointment?
Leave your details and we will contact you!

Or why not visit our FAQ page and see if your question
has already been answered: