The Importance of Lighting your Work Vehicle
Published: 10/25/2018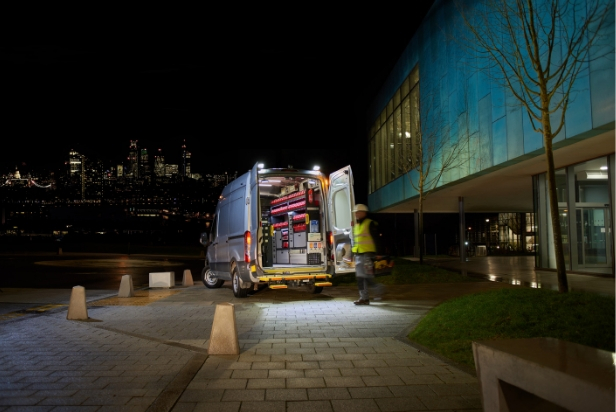 -
Installing appropriate lighting in work vehicles is essential. It helps to ensure that jobs are completed to the highest quality and that the work area is safe for both users and customers.
The importance of lighting
Offering more flexible services means that many tradespeople use their work vehicles in the evening and at night, as well as during the day. As such, sufficient lighting is crucial when working beyond daylight hours. Even during the day, interior visibility in many vehicles may be poor. Other than the rear windshield, work vans tend not to have additional windows installed. Furthermore, vehicle manufacturers tend to only install basic lighting. While some have started to fit LED lights in their new vehicles, the assumption is that work vehicles will always require additional lighting to improve interior visibility.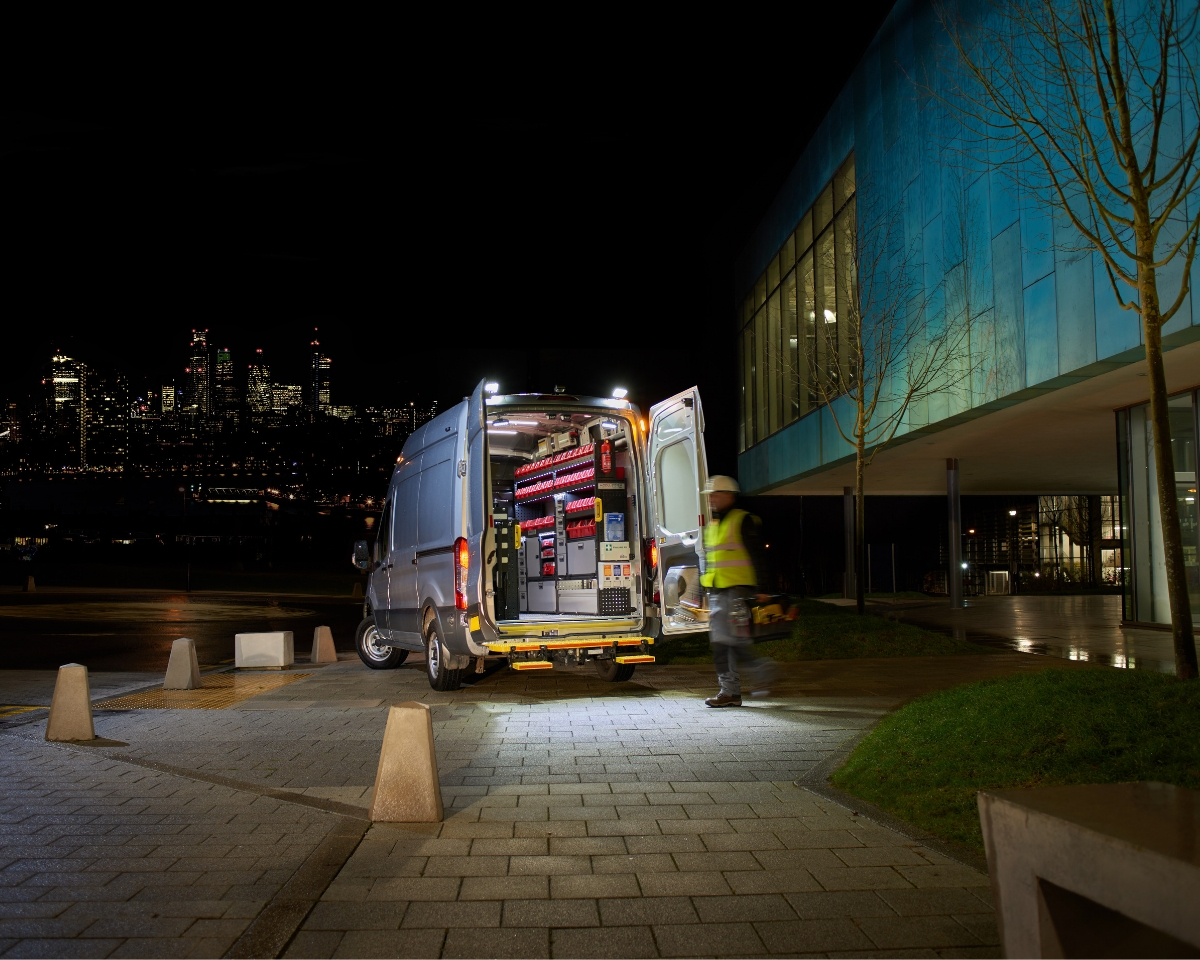 It is equally important to ensure that the outside of the vehicle is properly lit. When working in dull conditions or outside of daylight hours, it's important to be able to see clearly when moving back and forth between the vehicle and the work area. Additionally, some jobs may require elements of the work to be carried out outside of the vehicle. Appropriate lighting will create a safe working environment and enhance users' workmanship.

Utility companies, for example, often have to travel to more remote locations to complete work, having to contend with narrow access roads and shaded, woodland areas. In such cases, appropriate exterior lighting is essential not only for users' visibility but also to act as a warning to other vehicles. Similarly, in certain countries, particularly those of Scandinavia and the Nordic region, daylight hours are greatly reduced during the winter months, with some experiencing no sunlight at all. Sufficient exterior and interior lighting is essential for users working in challenging conditions such as these.
Exterior lighting
From beacons and strobe lighting to LED light bars, a variety of external lighting can be used to not only provide adequate vision for workers but also to ensure other road users are aware of the presence of a work vehicle. Having appropriate lights fitted to work vehicles will ensure that they are safe for use on the road, as well as for use in the work environment.

Beacons, strobe lights and light bars are all widely used. Strobe lights are often fitted, flush to the sides of vehicles or to grilles to prevent them from being obtrusive. Strobe lighting can do more than merely illuminate the area in front of a vehicle. If required, lighting can also be configured to provide anything from 135 degree lighting up to as much as 360 degree vision if corner strobes are used.

Thanks to LED technology, modern exterior lighting is highly unobtrusive. Mini light bars can be fitted in a wide range of different places on a vehicle. Small and compact, they can be fitted and used as required by the vehicle's operator. LED mini hideaway strobe lights are a recent innovation. Set to replace light bars, they provide warning protection for a range of vehicles. Mini hideaway strobe lights provide a number of different mounting options and can be fitted, for example, in head or tail light housings, bumpers and door panels.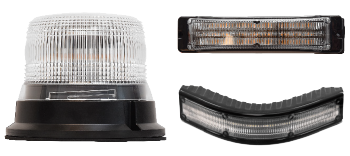 Traditional halogen lights have been replaced by LEDs, which offer a much longer life span. LEDs also use less power, which is an important consideration, as work vehicles are often left switched on, particularly if the lights are being used to keep the work area well lit. It's crucial not to drain the battery in this way and to be aware of how much power is required to operate the lights. A warning system can prevent this from occurring.

With several, amber, strobe patterns ready installed, LED lights provide high performance and versatility. Amber flashing lights are highly regulated and are tested for compliance with regional and international EMC requirements.

It's important to fit fully certified lights in any vehicle, as certification ensures product performance and public safety. While uncertified lamps are still being sold by unscrupulous importers, safety certification is a requirement for manufacturers and most licensed tradespeople will not install products if they are not properly certified.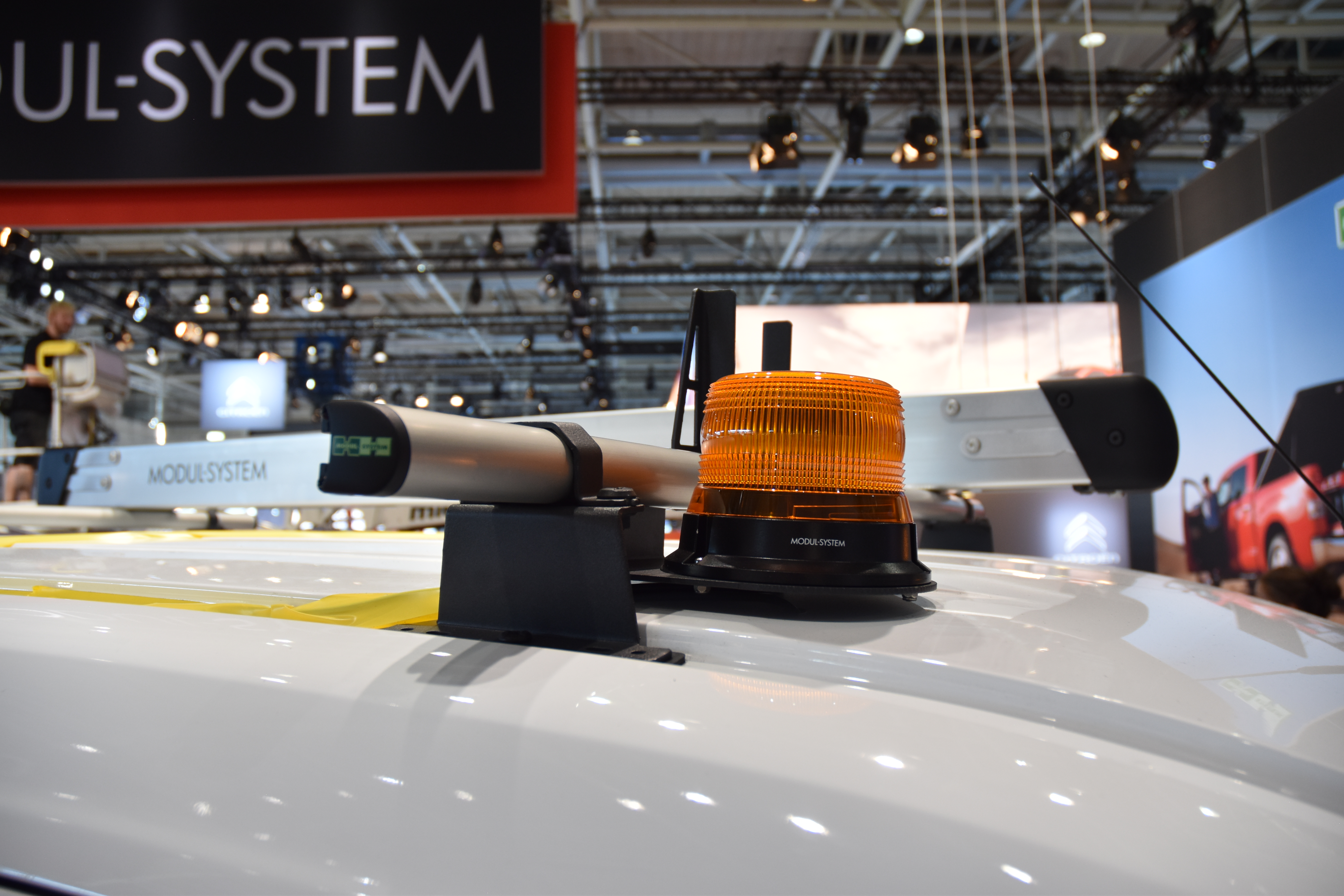 interior lighting
It's commonplace for a configuration of several light strips to be fitted to the interior of a vehicle's roof to provide adequate interior lighting. In addition to roof lighting, strips can also be fitted to the underside of shelves, above work benches, to provide enhanced down lighting on working areas. Drawer lights and additional shelf lighting also offer enhanced visibility.

Interior lighting in the ceiling of the vehicle can create shadows. It's therefore helpful to fit down lighting to the underside of shelves to illuminate what equipment is available on the shelf below. Interior lighting enables users to find exactly what they need when they need it, making the vehicle user far more efficient.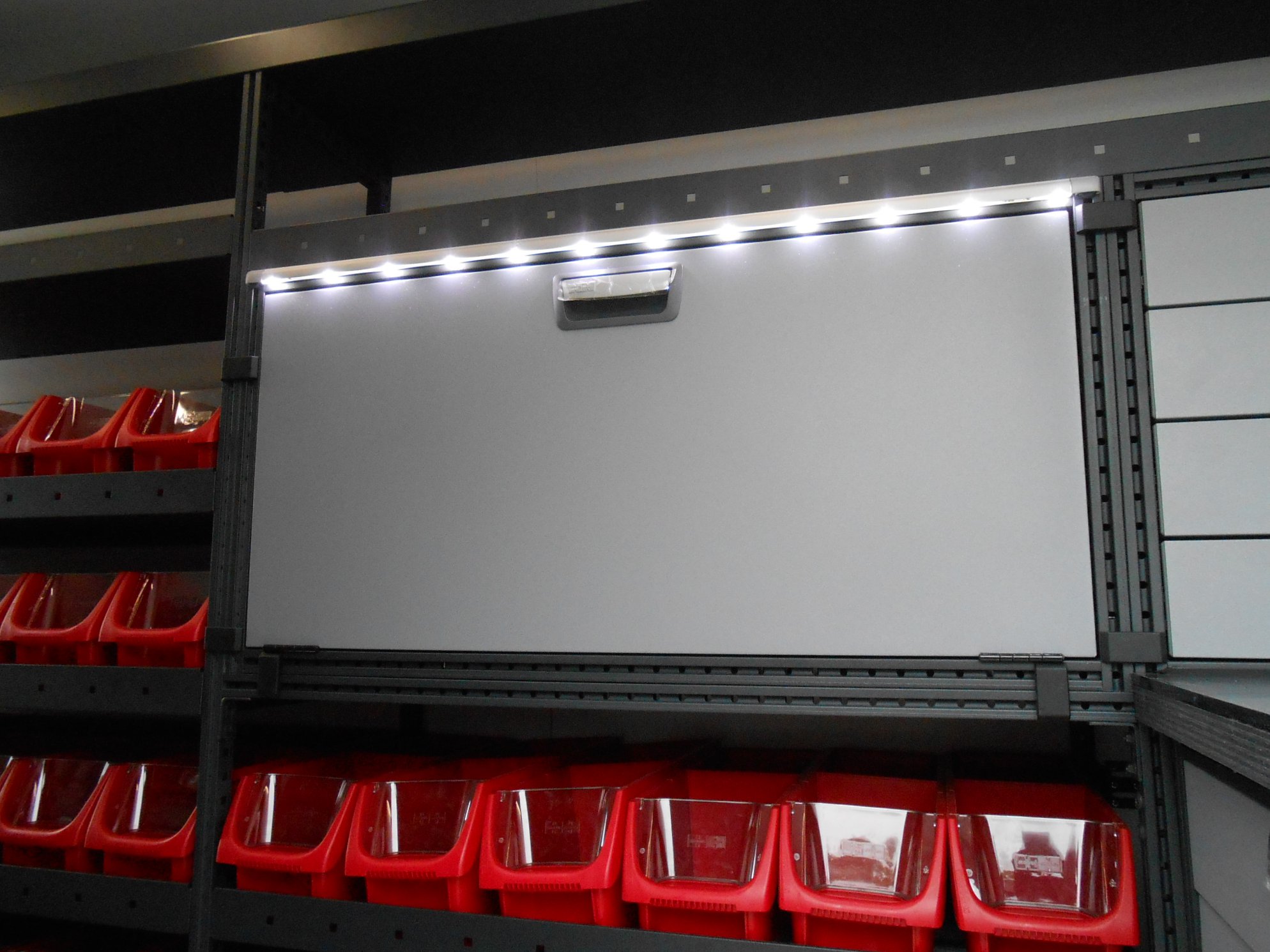 Many products are also fitted with magnets. Rather than having to drill and position lights into permanent fixtures, beacons with magnets can be positioned, both internally and externally to different areas of the vehicle. These versatile lighting products can be used when and where they're required.

Combined with lightweight aluminium flooring, strategically placed lighting can create a bright and visible interior for any work vehicle, vastly improving working conditions for the user. An organised and well-lit vehicle creates the right impression. Customers can rest assured that they're dealing with an organised and efficient professional.