Campaign on drawer/shelf lights
Published: 11/17/2015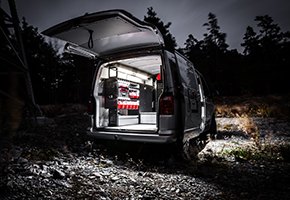 -
The daylight hours are getting shorter, and good lighting conditions in your service van are becoming even more important. With Modul-System's drawer/shelf lights it's possible to increase both your efficiency and safety. As a direct result, it will be easier to find the tools and equipment you are looking for, and the risk for personal injury will decrease. As an incentive, we are now offering a 15% price reduction on our drawer/shelf lights*.

The high-quality LED lights are CE marked and tested for both electromagnetic compatibility (EMC) and electrostatic discharge (ESD). As they have IP65 classification, they are resistant to both moisture and water. Thanks to the constant current circuit, the LED brightness will stay the same despite any fluctuations in the electrical system of the vehicle.

If you have any further questions, or would like to place an order, please contact your nearest Service Center.


* Campaign valid up until 2015-12-31.