Introducing a range with increased depth
Published: 2/9/2016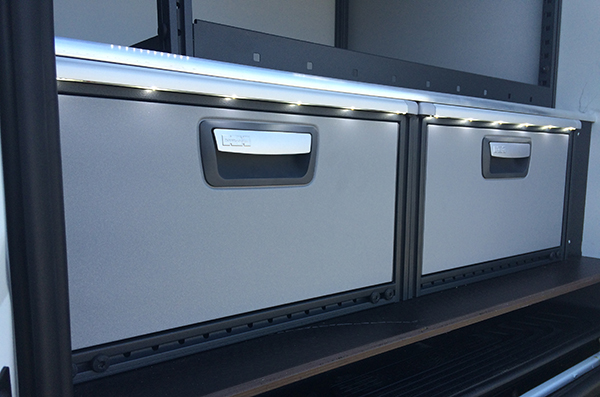 -
In some applications, racking products with increased depth is required. Modul-System is now introducing a range of deeper products (648 mm). We are offering, for example, drawer units, end sections, shelves and workbenches.

The drawer units are fully extendable, and equipped with ball bearing runners. It's possible to load up to 60 kg in each drawer, with a maximum of 150 kg per drawer unit. The drawer units are available in several configurations, and can be equipped with accessories such as rubber mats, foam liners, dividers and inserts.

The drawers are suitable, for example, in configurations with false floors. In vehicles with twin side doors, they can be installed back to back with the drawers opening out of each side door. The drawer units can also be mounted on false floors, where they offer excellent storage space. When combined with, for example, shelves and workbenches, they are the perfect choice for the workshop. Another suitable area for use is in the cargo area of estate wagons.

Please contact a member of our sales team if you would like to know more about these products or watch a video on YouTube.