Modul-Express – When The Last Mile Is Your First Priority
Published: 1/21/2020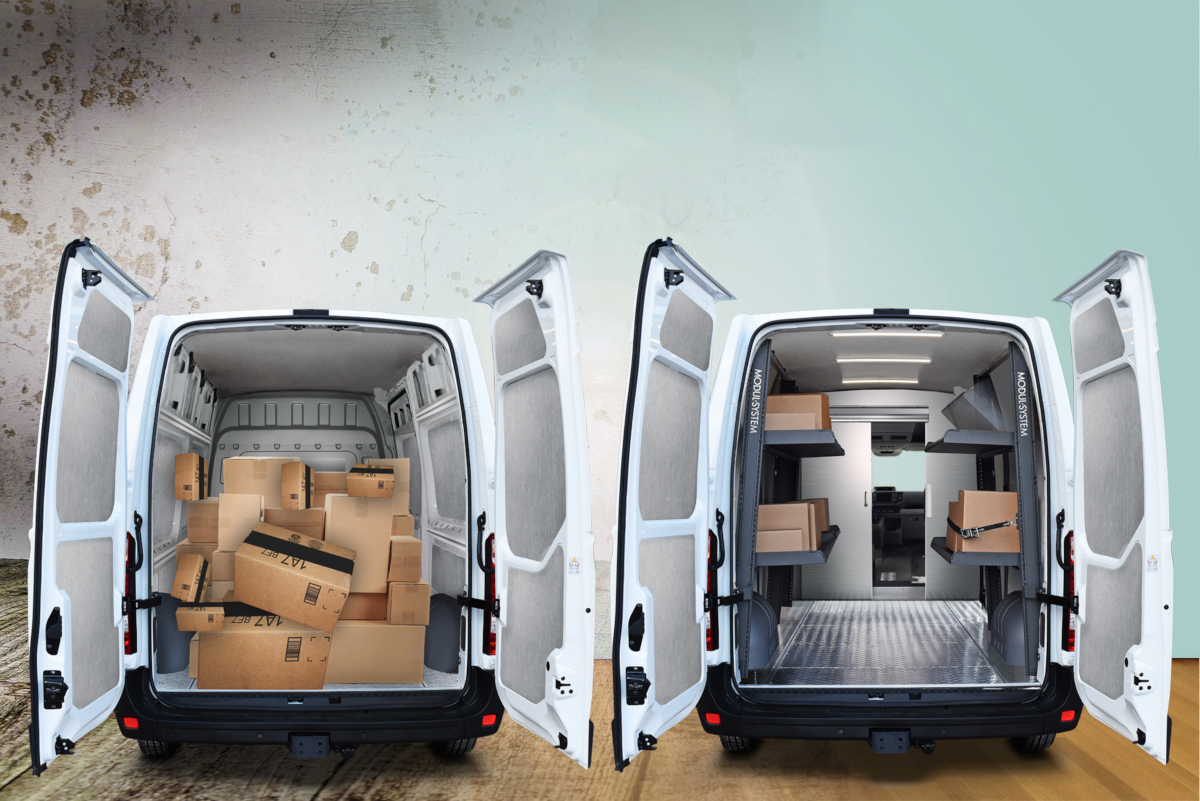 -
When it comes to delivering parcels, Modul-Express van storage solutions make light work of a tough job.
The parcel delivery industry is thriving with the courier and express delivery sales increasing rapidly and expected to continue to grow over the next five years.
Produced in our own factory in Sweden, Modul-System provides parcel delivery van shelving, storage and accessories. Our fundamental goals are to save time and increase efficiency, protect goods to ensure safe parcel delivery and make delivery drivers' lives easier.
All Modul-Express products are designed to be as light-weight as possible using aluminium sandwich materials and ultra-high strength steel.

How to Improve Efficiency for Parcel Delivery Vans
Improved bulkhead design and features including sliding doors.
Flexible loading options such as folding shelves.
Utilising floor space to maximise usage and increase the load area by up to 50%.
A Better Bulkhead
A centred bulkhead door with the added benefit of being able to slide is among the range of bulkhead solutions available. How does this improve efficiency? After customer tests, we've found that a bulkhead with a sliding door, can save around ½ hour from an 8-hour workday. When comparing two drivers, one with and one without a sliding door it saved 14 seconds per delivery, which calculated over 100 stops or an 8-hour shift would be 25 minutes.
In addition to this time saving, a bulkhead with a sliding door also offers better safety and security for both the driver and parcels. A sliding door prevents the driver from stepping out in traffic and walking inside the vehicle means that the doors are opened/unlocked first when the driver steps out. Therefore, no packages can be stolen, which could be the case if a driver opens his door and walks around the vehicle to the side door, as the doors are open, but the driver cannot see what happens at the side door.
For further reduction in the total weight, you can have increased space between the seats and potentially, to reduce cost, the bulkhead can be chosen with a folding jump seat to replace the ordinary passenger seat.
You can choose from a range of lock systems to suit your bulkhead requirements either without a lock, a key/cylinder lock or slam-lock.
The bulkheads for each vehicle model are tested and certified according to ECE R14 and ECE R17 and the folding jump seats according to ISO 27956:2009.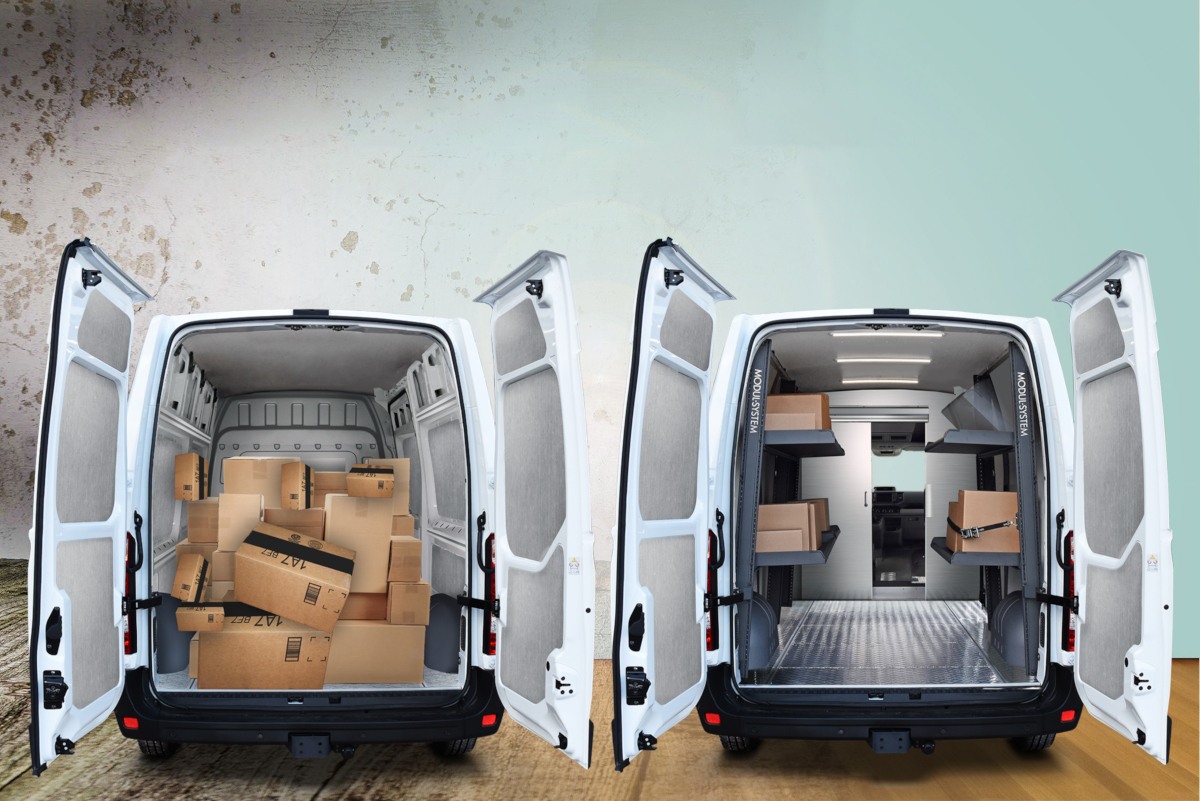 The Advantages of Folding Shelves
Modul-Express versatile storage solutions include flexible folding shelves with higher side and rear edges to ensure parcels remain on the shelves. We've taken this a step further and designed a lower front edge and the shelf can be mounted with an incline if required making unloading easier, quicker and safer.
As would be expected, being ultra-high strength shelves, each shelf has a large load capacity of 120 kg. They also have the added advantage of non-intrusive installation, eliminating the need to drill the vehicle structure and the risk of corrosion.
Again, we've gone further and after extensive research and development, our parcel delivery van shelving is now user-friendly with an ergonomic design. Gas struts make the shelf operation simple and effortless.
We made T-tracks an integrated part of the design, enabling the easy use of lashing eyelets and lashing straps. To further secure parcels, they can be held in place with our safety net system. It's the many small but simple details such as these, that makes Modul-Express the choice of premium delivery brands such as DHL, DPD, DB Schenker, GLS, TNT and UPS.
How to Maximise Parcel Delivery Van Floors
We've already talked about versatility, and one of the biggest plus points of folding shelves is that when folded, the total floor space can be used (load capacity of 1000kg/m2).
Modul-Floor offers a robust, anti-slip floor, helping to reduce vehicle conversion weight which in turn helps to lower vehicle fuel consumption. The floor includes two lengthwise aluminium T-track rails for accessories and flexible securing systems specifically for the floor of parcel delivery vans.
Our optional transverse aluminium fixing socket rail is available to complement the use of cargo bars and this delivers a flexible securing system without the need for tools.
The floor should be a top priority and with floor stop-rails, you can keep parcels in place during transit, while clever lashing eyelets, hooks and cargo bars can be easily mounted directly on the floor and wall rails.
Testing & Safety
Safety and quality are paramount, and we invest time and energy into the development of innovative, new products and then carry out stringent tests to make sure that the end product is of the highest quality possible.
If you have any questions about Modul-Express, contact our sales team on 01628 528034 or sales@modul-system.co.uk